'Pages > 'New' > 'Save & Edit'
Go to 'Pages' within the category 'Pages' from the sidebar.
Select 'New' page.
Fill in the title in the middle and add a description and/or content (both are optional). Click 'Save & edit'. Then check 'Settings'.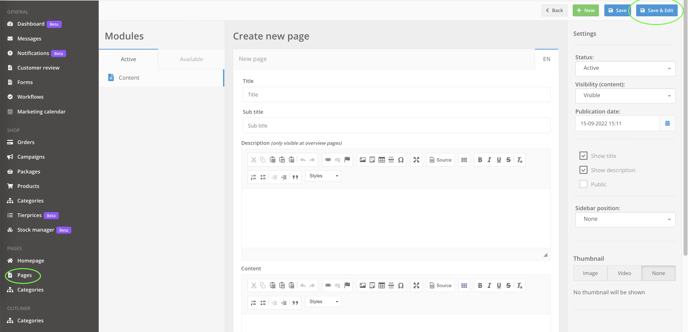 Settings are:
-Status: Active / inactive
Visibility: Hidden / Visible
Publication date (select a future date to plan a publication date)
Sidebar position: Select where (and if) you want de sidebar to appear. Note: Make sure that you check the module "sidebar" as well:

Thumbnail: It's optional to add a thumbnail to the page. You can choose an image or a video (5 sec. preview). This thumbnail will be shown when you create another page with an overview of pages (check module: related content).
After you have created the page, you are able to link to it from:
Navigation bar
Tile menu
Direct link
Related Content (pages and categories):